Facebook Chatbots: Some Thoughts on Mobile Users and Brand Benefit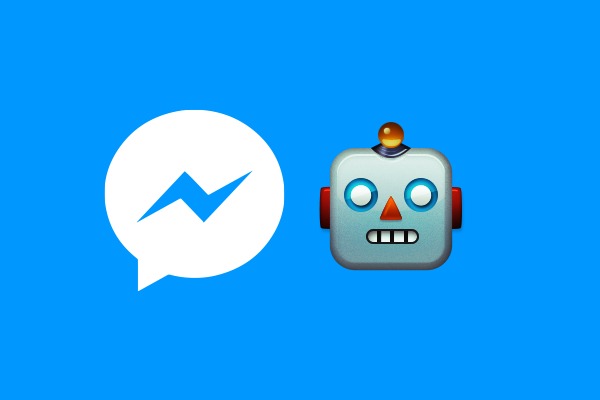 Facebook hosted its 2016 annual conference for developers recently. Among the new features that were showcased, one was Chatbots, available via Facebook's Messenger Platform.
Dubbed as one of Facebook's early initiatives to blend social media and artificial intelligence, Chatbots can change the way we interact with apps.
Here's a screenshot showing why it's hard to differentiate a Chatbot from a fellow human being: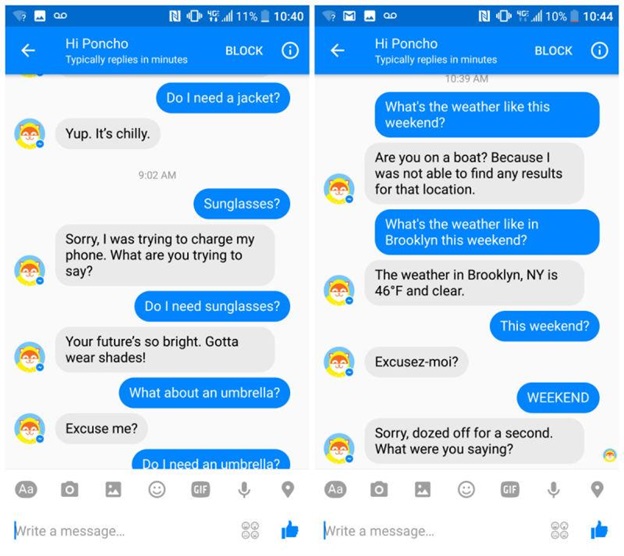 The bot in this example is called Hi Poncho and it supplies weather data. The way the bot interacted is the way a human interacts with another human. You can see the entire chat session in the image above.
Virtual assistants or more?
Facebook doesn't want Chatbots to end up as a proxy for virtual assistants. Chatbots have the potential to outsmart personal digital assistants like Siri. Even though Siri and the like are touted as rudimentary versions of AI, they are far from being so. If they were, then Apple would have been procuring artificial intelligence outfits from around the world.
The activities that Chatbots can perform include but are not limited to giving weather updates, purchasing merchandise from online stores with the click of just one button and booking airplane tickets. Once again, when receiving the resulting information from Facebook Messenger, you'll feel like you are talking to another human.
What about brand benefit?
Brands see the potential of every digital invention and decide whether it's useful for them. They are optimistic about Chatbots for the reasons below:
Limitied phone calls: With Chatbots, we might be heading to a future where telephone communication between customers and businesses become less frequent.. If this day ever comes, brands will be able to reduce spending on hiring and training customer service reps and lower their operating expenses.
Customer feedback: A brand's sweet spot is customer care. As they are moving deeper and deeper into the marketing rabbit hole, they are realizing the importance of customer feedback and investing in customer care. Chatbots can handle customers.
Bonding with customers: Emotional intelligence matters in business. We've discussed how empathy marketing is gaining traction among brands. With Chatbots, Facebook may tickle customer's emotional intelligence and create a bond with them.
Sure, Chatbots can serve brands, but there are a few challenges as well.
The challenges
At the F8 developer's conference, Marc Zuckerberg described Chatbots by saying "We think that you should just be able to message a business in the same way you message a friend." He then added "You should get a quick response. And it shouldn't take your full attention like a phone call would. And you shouldn't have to install a new app."
A business can be chatty with a customer, but not overly chatty. When a human represents a business, he knows where to draw a line between being chatty and being overly chatty, but automated systems may not be able to figure that out.
Developers can make it more advanced, but it will always be hard (If not impossible) for it to fathom the nuances in human interaction as developers don't fully understand the nuances themselves.
Besides, Chatbots have been reported to complicate online buying. The 1-800-Flowers bot, for example, can be accessed by first opening the Messenger, then pulling down from the top and tapping on the search box, then typing the name of the bot, then tapping on the icon, then communicating with it and giving it all the details, and finally, paying via the credit card. A simple phone is less complicated and can save time.
The fatigued users
Conspiracy theorists are sharing their views. Some of them are of the opinion that Facebook is anxious about its users suffering from excessive boredom and wanted to invent something to prevent it.
Facebook's popularity rose because third-party sites integrated their platforms with the "Like" button. But over the last few years, there hasn't been any revolutionary invention such as the "Like" button. Users are reporting Facebook as a social network has been becoming stale. Chatbots may be Facebook's trump card to regain the lost interest.
Add to that the app fatigue, which Ben Schipper of TechCrunch explained in this article. The result of this fatigue is users becoming apathetic to mobile apps. The analysis rings true because Smartphones have indeed functioned as gateways, letting brands to bombard our senses with apps.
How this apathy can trouble brands? Rand Fishkin reported from his Whiteboard Friday that 25-50 apps get the majority of the online traffic and users are prone to directly click on app icon instead of searching for apps. Chatbots, Facebook hope, may change this scenario.
Facebook's mobile forte
Zuckerberg knows the handheld segment will play a highly critical role in the consolidation of Facebook 2.0. Chatbots could be a sufficing device to pave the way for Facebook's improvement trail.
Already, the Facebook Messenger has over 900 million users and all of them access it from smart devices. More could join the board after Chatbots and that's because Facebook has a lofty proposition for them; they can create their own bots and upload it on Facebook Messenger. That and the anthropomorphic appearance of the Chatbots are Facebook's leg up to reinstall its magic in its users.
Conclusion
Chatbots come with opportunities and challenges. Some undermine the opportunities and some undermine the challenges. Both, however, agree that it's something unique. Maybe that's what Facebook had in mind.
As discussed, Chatbots can serve brands well but because the feature is half-baked at the moment, we'll have wait till it becomes fully equipped. Hopefully, Facebook will notch its AI quotient up in the future.
Image Courtesy: techcrunch.com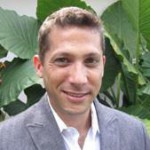 Adam Frankel is President and CEO of Frankel Interactive, a leading South Florida digital agency specializing in custom websites development, ecommerce development and digital marketing. For over 15 years he's been working with businesses and government agencies to bring their organizations online in order to build brand awareness, communicate with stakeholders, generate leads and drive sales. His belief is that all businesses need to keep up with technological trends including the continual transition from desktop to mobile, search engine algorithms changes, and social media engagement. His goal is to help them implement strategies to successfully compete in an ever crowding digital marketplace. When he isn't touting the benefits of web-based marketing, he enjoys fishing and spending time on the waters surrounding Miami with family and friends.
Comments ():
Snail-Mail
1835 N.E. Miami Gardens, Suite 514
North Miami Beach, FL 33179