Useful Tips for Digital Marketers to Make Better Use of Google Maps
Running an online business gives you the ability to consider Google Maps listing unnecessary. But businesses operating from a fixed location lack this benefit. Google Maps listing is indispensable for them.
It endows them with better visibility against local search queries. Studies indicate more than 80% of searchers who use local keywords visit the physical outlets to buy staff. The map listing is a form of optimization as it beckons Google to look at the onsite content as local content.
The setup process
You can set up Google Maps listing for your business in two ways; go to Google My Business, sign in with your Gmail account and add your business by accurately providing the business name, address and phone number (NAP), selecting a suitable category and verifying and confirming that it's your business.
There's another way; Google keeps a list of established businesses in its directory. If your business is one, you could find it by searching with its name and address. Once you find it, claim it. After the verification, Google will map NAP and other information about your business with the Google+ page that you'd set up.
Identifying the consumers
The setup process is easy but identifying the consumers is not. Problem is you cannot skip it as Google Maps marketing is counter-productive for your business unless you first identify your consumers.
In my opinion, local stores can have two types of consumers - people who live in the vicinity of the store and people who are accidentally near to the store, trying to find a local business through a mobile search.
Unexpected leverage
What's great about Google Maps marketing is you have a fewways to leverage it. One of them is your store's location, another is the reviews you are getting across the search directories. Yet another way to leverage it is through keyword usage.
Surprised to hear keyword usage?
You have reason to feel surprised because keyword optimization is normally done only for the sake of it, as it simply isn't a really relevant and weighted SEO tactic on your site. But as I said, the apparently-unimportant keyword optimization is uber-important when it comes to Google Maps marketing. It is a leverage and in a sense, unexpected.
Keyword optimization is anything but a routine activity for a local business that expects to rank top on Google's map results. The introduction area of Google My Business has a text editor where you can add a brief description of your business and pitch the UVP. This is where you can use the relevant keywords. Rest assured, there'll be a payoff.
Image optimization
There's no dearth of businesses that don't bother adding images in their Google My Business listing. That's a grave mistake. Adding photographs may not give you any direct benefit, but it makes the listing appear more attractive.
There are three rules of thumb when it comes to adding images. Here they are:
Never add stock images, always add original images.
Add more than one image
The images should be taken by a professional photographer
Adding images alone is not enough, you need to optimize the images by adding meta-data. The relevant meta-tags related to your store's address are latitude, longitude and location abbreviation.
Reviews and personalization
Personalization is a priority for local businesses because their customers expect it. In 2015, eMarketer reported local businesses beat their big rivals in areas like personalization and overall consumer experience.
When it comes to Google Maps marketing, personalization comes from customer reviews. More often than not, local business owners solicit favorable reviews from customers. Sometimes (rarely) customers voluntarily write a positive review of a business. They do that because they get personalized treatment/unexpected waiver from a store, which encourages them to review it positively.
The Google Maps Infocard features customer reviews, which add personalization. Studies indicate 88% customers feel online reviews are as important as personal recommendations, which means by getting positive reviews, local businesses can throw out a personalized vibe.
When requesting customers write a positive review, a local business owner should specify that he wants the review on the Google My Business listing page. Having favorable reviews enables you to brag about your store across location-based online communities and social channels. It's an effective marketing technique and many local stores have been doing it.
The location
This might seem trivial, but it's not. In the beginning of this article, I mentioned physical location is important for businesses that operate from fixed locations. I also mentioned that locational proximity matters for customers who buy from those businesses.
The conclusion that we can safely deduce from the two premises is a prime location can get you more customers than an offbeat location, which customers would virtually have to explore like the medieval conquistadors. In many instances, if you are not centrally located to your audience, it doesn't matter how aggressive you are with your marketing.
See the image below: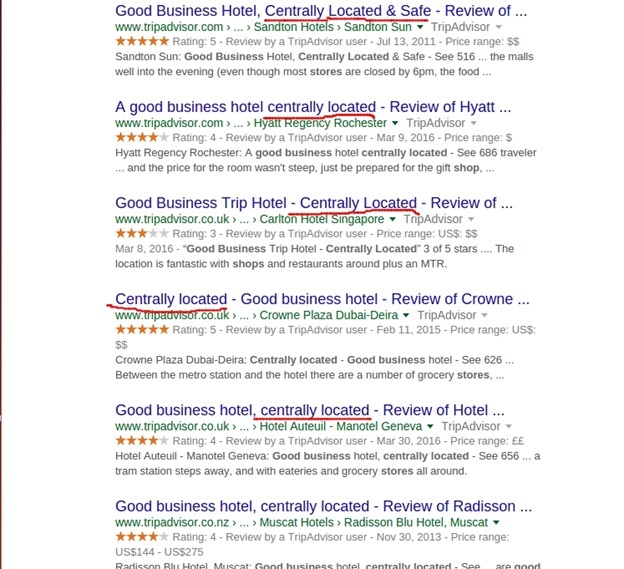 Almost all hotels have "centrally located" in their meta-titles. It's something that can and should be used for promotion. I'd even advise you to cut down on your online marketing budget and invest the money to find a central location for your business. Doing that enables you to add a UVP (Unique value proposition) to your campaign.
Don't waste your time
For Google Maps marketing, you need to follow tips from experts. However, be careful of self-professed experts and their faux-advice. Don't waste your time doing any of the following two, even if someone insists you to:
Local landing pages: Don't bother. Those pages are for companies that operate from multiple locations.
Alt tags: Not relevant for Google Maps. Alt tags allow Google to index an image so that it is later displayed to those who search with the keyword on Google Images. Local searchers won't use Image search.
Doing either of these translates to wasting both time and money. The worst part is you won't get anything substantial in return. So don't bother.
Offline networking
For any local business, this old-school technique is still extremely important. Your customers are people around you. So invest time to create a network with them. This will help you to get more footfalls at your store and get better reviews. Both are signals that Google may pick and assign you a high rank its map result.
Image Courtesy: www.nexus-lab.com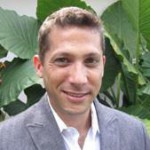 Adam Frankel is President and CEO of Frankel Interactive, a leading South Florida digital agency specializing in custom websites development, ecommerce development and digital marketing. For over 15 years he's been working with businesses and government agencies to bring their organizations online in order to build brand awareness, communicate with stakeholders, generate leads and drive sales. His belief is that all businesses need to keep up with technological trends including the continual transition from desktop to mobile, search engine algorithms changes, and social media engagement. His goal is to help them implement strategies to successfully compete in an ever crowding digital marketplace. When he isn't touting the benefits of web-based marketing, he enjoys fishing and spending time on the waters surrounding Miami with family and friends.
Comments ():
Snail-Mail
1835 N.E. Miami Gardens, Suite 514
North Miami Beach, FL 33179