5 Tips Every Brand Should Follow to Re-engage with Their Customers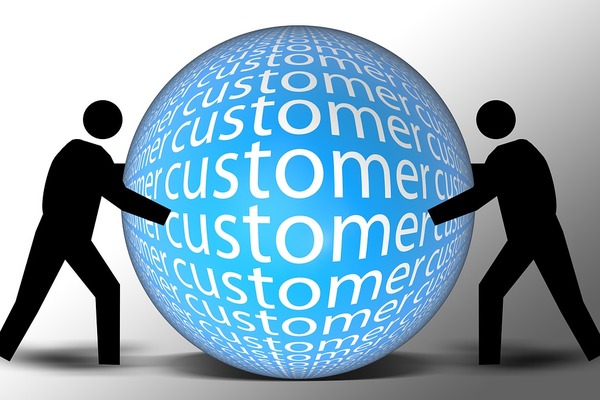 Experts believe re-engaging with existing customers is better than finding new customers. Research suggests the former is more profitable than the latter in terms of sales.
Getting success in re-engagement depends on a couple of factors - The brand experience, customer feedback, retention rate are some of them besides removing lead gen bottlenecks, nurturing qualified leads and keeping them warm.
In this article, I'll give you tips on customer re-engagement.
List buildup
Re-engagement begins with building a list of customers.
It's the very first step and it's important.
Some of your existing customers may now want to stick to your brand any longer. Some want to turn to other brands for a change, while some are not happy with your pricing. Identify such customers and exclude them from the list of re-engagement targets.
How to identify them?
Check the recent transaction history and spot those who haven't been purchasing from you for a long time. There's no point to inflating client lists by adding inactive customers to it.
Among the active customers, target the ones whose cart or order sizes are of comparatively larger orders. Such customers bring a better ROI. Getting a customer who will spend $400 is better than getting a customer who will spend only $40.
Check how active a customer is and how much he's buying from you. These two are the criteria for sorting out the existing customers, you should be re-engaging with.
Returning visitors display ads
Visitors who keep coming back to your site are retarget baits. Problem is you can't contact them via email because they are anonymous. You only have their IPs in your website's server log, but that won't help you identify them.
But identifying returning visitors is a must because they are likely to buy. Retargeted display ads can make them purchase from you. Studies indicate display ads can make returning visitors 70% more likely to buy. Display ads can be shown to them in the following way:
You can place a cookie which will stay in their browsers. Big ad networks like Google Adsense, Adroll and Bing all support this. You'll get the cookie code from the respective ad network.
This process is thoroughly explained by the infographic below: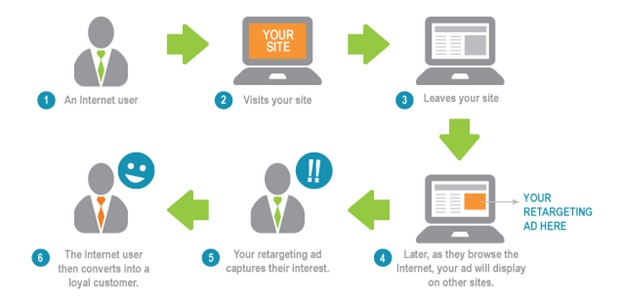 Each individual social network has its own way of showing returning visitors display ads. Facebook, for example, allows you to set up Facebook pixel on your website. It has a conversion pixel-tracking dashboard which allows you to create custom audiences.
Automated email marketing
Email marketing is no longer manual. It is now automated and called drip marketing. Automated email marketing gives you an edge in re-engaging. State of the art email marketing tools come with a custom dashboard, which lets you perform the following tasks:
Compose emails following suggestions offered by the tool.
Schedule mails so that they are being automatically sent to the customers.
Track the open and response rates of mails sent to clients.
Set priority so that the tool sorts emails accordingly.
Many brands are skeptical about the effectiveness of email drip campaign. Here's some information that can make them rethink this:
Email drip campaign can nurture leads and keep them warm. Customers don't want their favorite brands to be non-responsive. If you don't keep contact with them, they'd lose interest and look for other brands. The gap between two consecutive mails sent to clients should be one quarter of a year.
The content and subject line of an email are important. A personalized subject line can increase the engagement rate by 22%. Tools like MailChimp can make the subject line and the body content personalized. The key benefits of automated email marketing are the following:
It segments email contacts according to location, industry, interests, etc. This way, the emails are sent to targeted respondents and drive the CTR up.
It nurtures the leads obtained from landing-page sign up. Such leads often don't convert into sales. Nurtured leads cause a sharp 20% increase in sales compared to non-nurtured leads.
A re-engagement strategy that doesn't include email drip marketing is incomplete.
Customer advisory board
Even though it's a new idea, it is quickly getting traction. Offering your clients a place in the customer advisory board (CAB) brings double benefits. First, it ensures customer engagement and secondly, you get honest opinion from customers on the product or service quality.
Which customers should be offered a position in the CAB?
Customers who have shown interest in your brand time and again should be offered a place in the CAB. Such customers interact with you, respond to the mails sent by you and of course, purchase from you. Brands are often advised to diversify their CABs. Different customers representing different fields of business can enhance cross-niche and cross-genre potential of the CAB.
The benefits of CAB are summarized below:
#Quality feedback: From the members of the CAB, you'll receive wise and pragmatic feedback. Such feedback will help you make your business flourish.
#Virality score: Having active customers on the board increases your virality score. New customers and many existing customers get attracted to your brand because a segment of customers do the marketing for you.
Simply put, a customer advisory board yields excellent opportunity for brands to connect with their existing customers in a meaningful way.
Loyalty programs
Through loyalty programs, you can re-engage with existing customers and make them purchase from you. Loyalty programs are all about giving customers reasons to buy from you. Here's an example on how to make it executable:
Leads often hesitate to sign up. If there's a reward or incentive for them, then they will find interest in the signup process and will actively buy from you. Loyalty program case studies show that a tier system drives customer retention rate up.
Such a tier system will have rewards at its initial entry point. If a customer is rewarded after an initial purchase, then they'll be interested to buy more from the same brand.
Virgin Atlantic Flying Club followed this strategy. They introduced a tiered reward program for members. Club Red members receive discount on rental cars, holiday flights, airport parking, etc. Club Silver members receive quick check-in and priority standby seating. Club Gold members receive clubhouse access where they could enjoy a drink and get a massage.
This tiered benefit structure helped them re-engage with their customers and grow their business.
The case study above is just an example. There are plenty other ways to successfully run a loyalty program.
Conclusion
Re-engagement is becoming more prevalent in a companies marketing mix. The benefits, discussed here, explain how and why. Follow the tips shared here to re-engage with your customers and watch your business thrive.
Image Courtesy: pixabay.com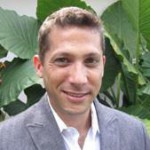 Adam Frankel is President and CEO of Frankel Interactive, a leading South Florida digital agency specializing in custom websites development, ecommerce development and digital marketing. For over 15 years he's been working with businesses and government agencies to bring their organizations online in order to build brand awareness, communicate with stakeholders, generate leads and drive sales. His belief is that all businesses need to keep up with technological trends including the continual transition from desktop to mobile, search engine algorithms changes, and social media engagement. His goal is to help them implement strategies to successfully compete in an ever crowding digital marketplace. When he isn't touting the benefits of web-based marketing, he enjoys fishing and spending time on the waters surrounding Miami with family and friends.
Comments ():
Snail-Mail
1835 N.E. Miami Gardens, Suite 514
North Miami Beach, FL 33179