Google's Featured Snippet and How it Benefits You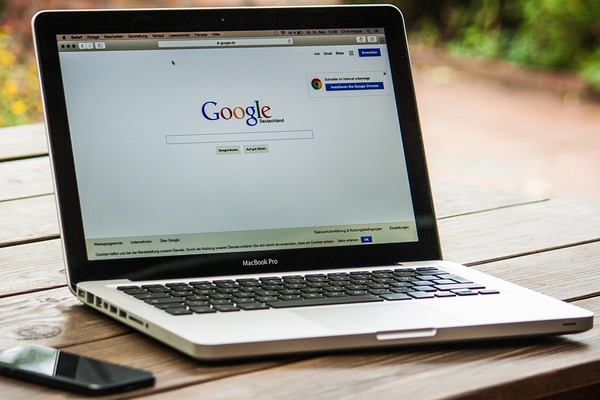 Google tries to understand a searcher's intent when displaying results for his/her query. Google has been doing this for a while now and experts believe it can revolutionize searching.
Once, searching was fully syntax-driven. But Google's been gradually reducing the importance of syntax and increasing the importance of semantics. Featured snippet is a step taken by Google to this direction.
What is featured snippet?
It's difficult not to notice featured snippets because they occupy almost 10% of Search Engine Results Page content. See the Mozcast Feature Graph below:
After you type a query in the search-box and press "Enter", Google may show you a paragraph with detailed information about the topic of search or an ordered list. That's a featured snippet.
A featured snippet appears above the organic results in the SERP. Google shows the page URL underneath the information.
Featured snippet increases CTR
Those eyeing at a high CTR have two options;
Running a paid campaign
Getting a top rank in Google
The former may be easy but burns a hole in the wallet. The latter is time-consuming and very complex. The SERP features only ten websites and millions of sites fight with each other for securing a place among the ten.
Featured snippet is an alternative to ranking. A page can appear in the SERP without getting a top rank in Google. That being said, its odds of being used for featured snippet increases when another page from the same site ranks in Google for the same query.
See the screenshot below: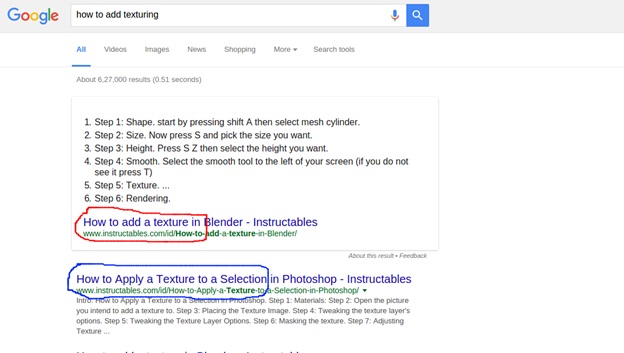 The keyword was "how to add texturing." The red and blue URLs are from two different pages, but from the same site. The page with the blue URL ranked top, thereby prompting Google to use the page with red URL for featured snippet.
The CTR gets a boost if two pages appear in the SERP. Technically, it gets almost doubled. Case studies show that featured snippet can increase the CTR to more than 500%. Columnist Ben Goodsell wrote that his client's site saw a whopping 516% increase in CTR after its pages were used for featured snippets by Google.
It's a bit erratic
For rich snippets, there are quite a few structured data markup tags. You can add #itemprop, #itemscope, json-ld to existing HTML tags to signal to Google that the content can be used for rich snippet.
But when it comes to featured snippet, Google categorically said that there's no marking system at place. Google statement on this reads:
"Google programmatically determines that a page contains a likely answer to the user's question, and displays the result as a featured snippet."
Only Google can decide whether or not a page has the potential for being used for a snippet. Aside from that, two different results may generate for the same search query, without and without interrogative expressions.
See the screenshot below:
The search query was "composite index." There's no featured snippet among the results. Now see the interrogative variation of the same query below: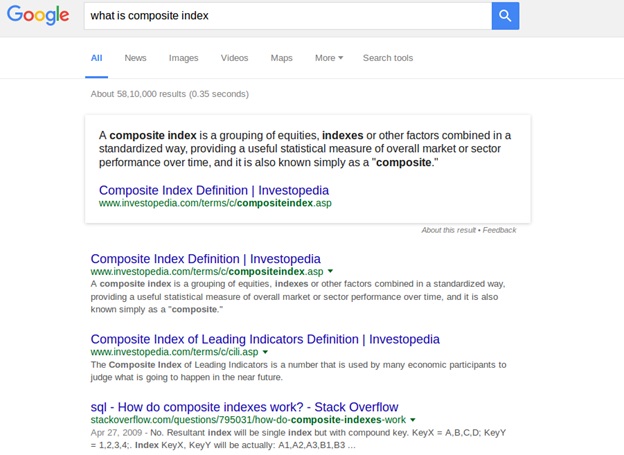 The search query was "what is composite index" and Google displayed a featured snippet.
There's no way for us to know how Google's algorithms work. But we can follow the steps below to increase our chances of getting featured snippets.
Follow the Q&A pattern
The search queries are questions and featured snippets are the answers - at least, Google treats them this way. So while drafting the site content, anticipate the possible questions related to the topic you are covering and make sure the content answers those questions.
This will drastically improve your chances of gaining a featured snippet. The answer should be direct and concise without any ambiguity, and it should have additional information that offers value to the searcher. A study on featured snippet scanned through over 100000 examples and found that content with said attributes is likely to be used for featured snippets.
Adwords and Google suggestion
The Q&A strategy described above works, but anticipating the questions is challenging. To overcome this challenge, leverage Google's suggestion feature along with AdWords.
They give you keyword ideas, which you can use as proxy for questions and draft the content as answer to those questions. This strategy works better if you think of long-tail versions of the keywords. For example, you are writing on chimney cleaning and your keyword is "soot removal." The long-tail version of this keyword can be "how to remove soot from chimney flue."
Note, the variation is not only long-tail but has "how-to" in it, which makes it look like a question. A searcher may not use this specific keyword but something that's similar to it.
Prioritize voice search
Google is aiming to make semantic searching a reality. Voice-activated search is a step taken to this direction. Handheld devices have personal digital assistants. Windows phones have Cortana, iPhone has Siri, Android phones have an army of them including Iris, Vlingo, Skyvi, etc. Whether built-in or third-party, these apps allow for voice search.
Voice search queries can be supplementary to each other. For example, the query "is Donald Trump a billionaire" is not connected to "can he drive growth" in non-voice search. But voice search connects them.
How do voice search and featured snippet add up? The idea of featured snippet is based on semantic resemblance between the search query and the results. It can be useful in bagging mobile traffic. It's available on mobile where many people voice search and the digital assistants recognize that consecutive queries are actually connected.
This increases the odds getting featured snippet for additional search queries, which is tough on the desktop platform. As an inbound marketer, all you need to do is create the content as the answer to not just one search query, but various other related queries. That's possible when the content is detailed, elaborate and sneaks into each crack and crevice in the topic being covered.
Conclusion
If a page comes in Google's ranking, then the chances increase for other pages on the site to be used for featured snippets. Hence, even though featured snippet provides an alternate route to a high CTR, getting one is compatible with the ranking goals.
Image Courtesy: pixabay.com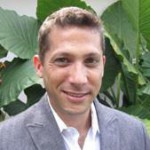 Adam Frankel is President and CEO of Frankel Interactive, a leading South Florida digital agency specializing in custom websites development, ecommerce development and digital marketing. For over 15 years he's been working with businesses and government agencies to bring their organizations online in order to build brand awareness, communicate with stakeholders, generate leads and drive sales. His belief is that all businesses need to keep up with technological trends including the continual transition from desktop to mobile, search engine algorithms changes, and social media engagement. His goal is to help them implement strategies to successfully compete in an ever crowding digital marketplace. When he isn't touting the benefits of web-based marketing, he enjoys fishing and spending time on the waters surrounding Miami with family and friends.
Comments ():
Snail-Mail
1835 N.E. Miami Gardens, Suite 514
North Miami Beach, FL 33179